The Lay of the Land
Last week I had the opportunity to travel out to Lesotho with Chris and Sheila Dillon once again. This time we were joined by Noel Kenny, the founding pastor of Liberty Church. It was Noel's first time in Lesotho and I know he was looking forward to getting to see and know the people and places we'd told him so much about for himself.
We flew into Johannesburg, hopped straight into a rental car and drove the 5 hours south to Butha Buthe in Lesotho checking in to our accommodation just a little over 24 hours since we'd left Dublin.
Our purpose there was to visit a number of pieces of land that had been identified by the Butha Buthe District Council as potential sites for our homes for Orphans.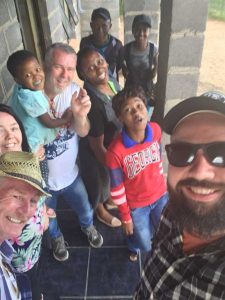 As we visited each of the sites we had the opportunity to spend time with local people, their elected councillors and the community Chiefs. We also met with a lot of incredible people who were voluntarily helping orphans in their communities with what little they had as well as some orphans who were living with relatives and in child led households. It was a humbling time and, if I'm honest, more than a little upsetting. Being face to face with people living in this kind of poverty is challenging on a whole lot of levels.
Overall though, I am excited that things are progressing and we are getting closer to the establishment of our project. We made good progress with regards to acquiring a site but it's clear now that we need people on the ground in Lesotho full-time to see this through. The plan for now is to begin raising funds to get Chris and Sheila living out in Butha Buthe as soon as possible. I am also hoping to get back here in the summer for a month or so to progress things as far as I can.
Rob